How To Install Dropbox Onto Your Computer For Mac
So, you might have heard of Dropbox and have a decent idea of what it's all about. However, we're going to get a little bit more specific.
Dropbox–launched in 2008–is the preeminent worldwide cloud file hosting service. By 2012, Dropbox had 100 million registered users–so valuable and impressive were its features. There are 700 million registered users now, while the software generates nearly $2 billion of yearly revenue.
We bring these points up because where there's smoke, there's fire. There's a reason Dropbox is so popular and is such a go-to tool for organizations. To that point, there are over 500,000 paying Dropbox Business teams. 
The software is a must-have for any company in today's fast-paced, data-driven landscape.
While there is an online Dropbox app, we've found that the desktop app is the most valuable iteration of the software. Thus, we've provided a step-by-step breakdown of downloading and accessing Dropbox on your Windows 11 Explorer and Mac Finder.
Setting Up Dropbox in Finder on a Mac:
Step 2: Once signed in, first click "Get app", then "Desktop app"… In the next screen, click "Download now"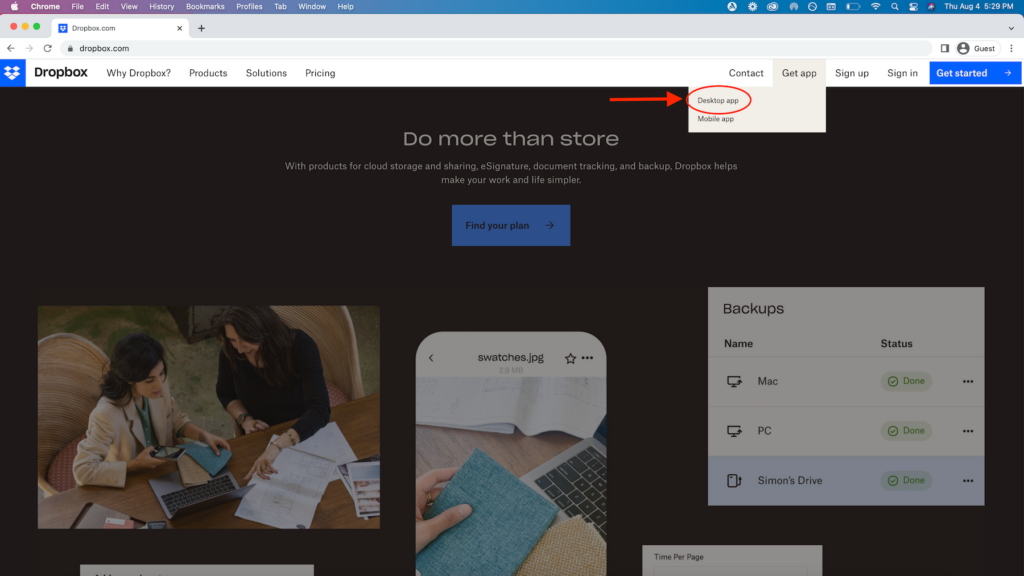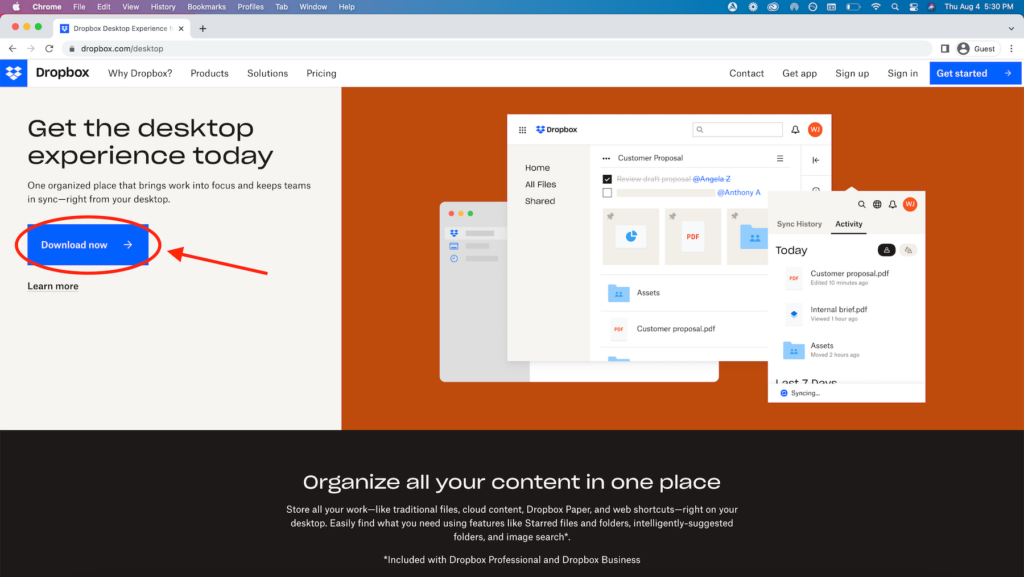 Step 3: After the Dropbox installer download is complete, go to your Downloads folder in Finder and double-click "DropboxInstaller.dmg"
Step 4: Double-click on the Dropbox icon (you'll see it in the installer window)
Step 5: A warning box appears stating Dropbox is an app downloaded from the internet – go ahead and click "Open" to start installation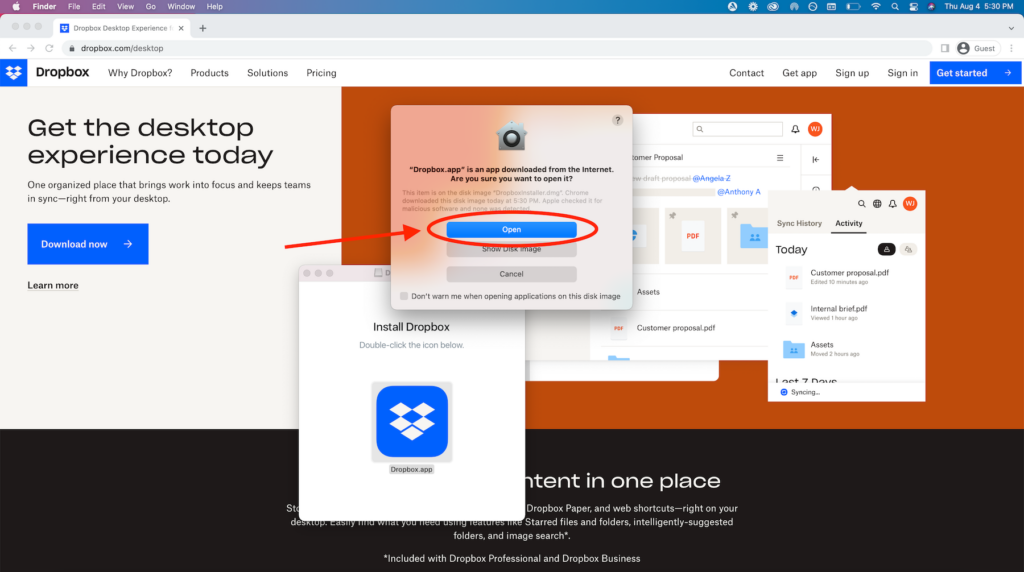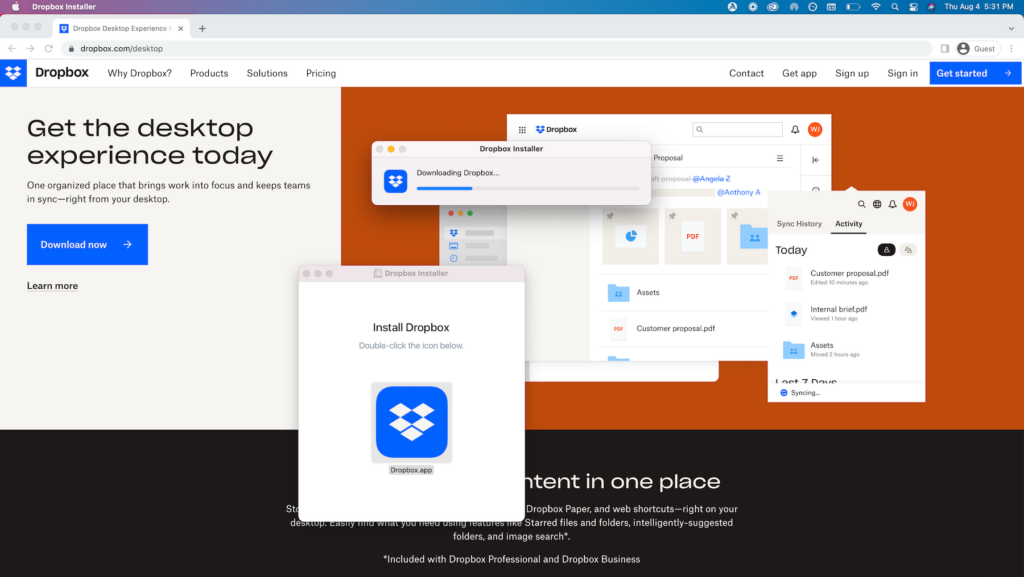 Step 6: Upon completion of the basic installation, sign in when prompted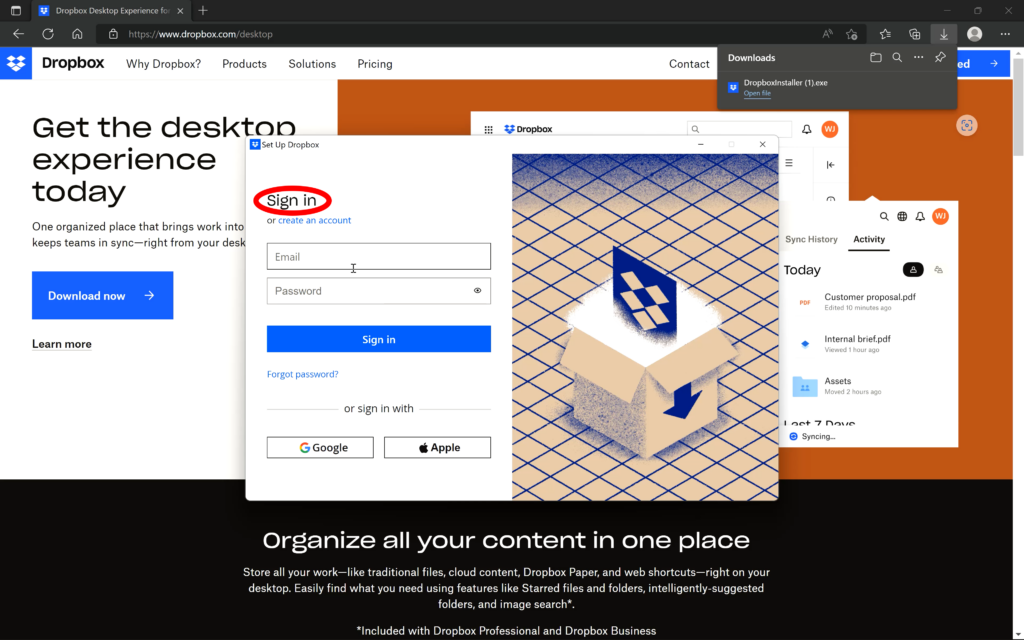 Step 7: To set up your Dropbox folder, click the "Open My Dropbox Folder" button located in the final installer window
Step 8: Click on "Not Now" after selecting "Continue with Basic"
Step 9: Provided you need to set up Dropbox, select "Setup"
Step 10: Click "OK" after you've entered your Dropbox password to add it to your Finder's sidebar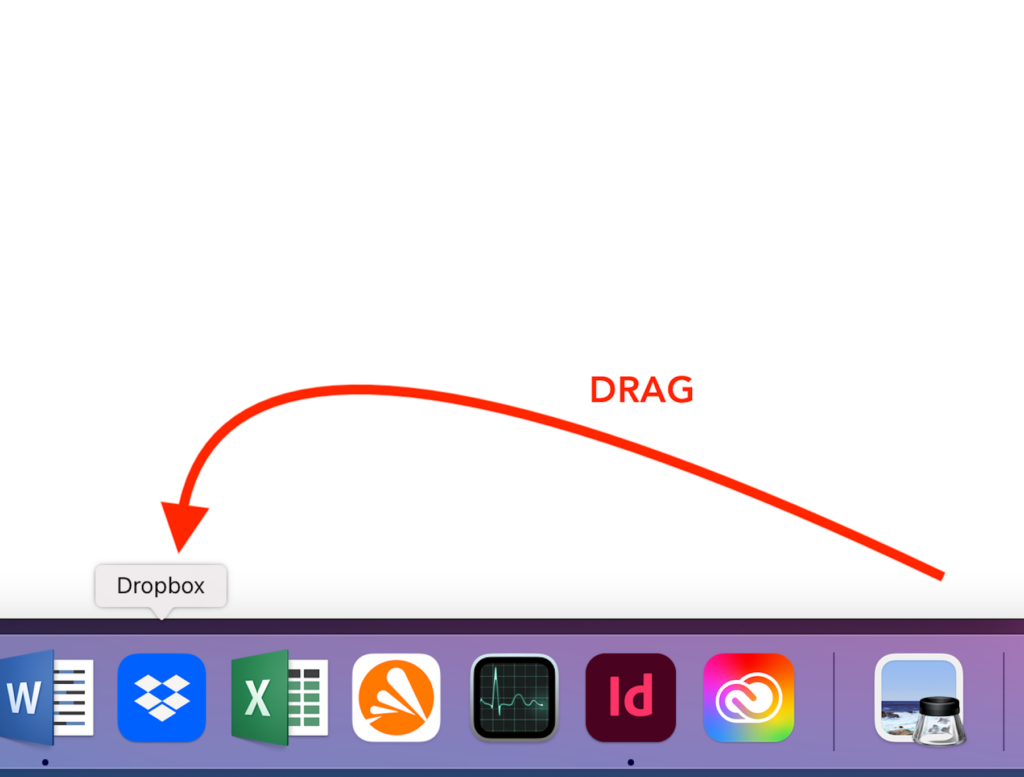 You've now set Dropbox in your Mac!
Benefits Of The Dropbox Desktop App
You might have only known Dropbox as a web-only tool where you found your files. However, moving away from that web-only access and using the desktop app comes with exponential benefits that can do wonders for your business. 
Instead of being an online storage space akin to a virtual attic, you now have a smart workspace. Here, your tools, content, and team can come together. Let's delve into some more specifics about the advantages of having the Dropbox desktop app on your Mac or Windows operating systems. 
Everyone Can Have Space
Dropbox on your desktop goes beyond the constraints of traditional folders.
After all, storing files and helpful information in different areas makes little sense when you have projects involving ten, fifteen, or even twenty-plus people. 
With Dropbox, you now have a collaborative workspace where project notes are shared. You can also assign tasks and pin critical files for instant access. 
All you need to do to create a Dropbox Space is choose a folder and write your description.
Store Everything
With Word docs, Photoshop files, MP3s, and all the other traditional files, life can be pretty seamless. Those files can exist in your standard folders without much worry. 
However, you deal more with complexities once you start getting into more complex areas like Google Docs and cloud-based tools. Typically, these non-traditional files don't end up with your usual, straightforward desktop files.
The Dropbox desktop app allows you to create, share, and edit Google Sheets, Docs, and Slides directly in Dropbox. You don't need to bunch regular files into one spot before sending an email with cloud content links. Instead, everything is consolidated into one area. 
Sharing Useful Links With Your Team
Often, your team will benefit from reading several articles on a given topic relevant to a project or task on which they're working. You can streamline this process with the Dropbox app on your desktop and ensure nothing gets lost in the ether.
It's possible to create shortcuts to all websites and store them in your Dropbox. This option goes beyond basic articles and includes links for web-based tools like Trello or Airtable Base.
You can create a shortcut and store it in a Dropbox Space to ensure your team members gather the required information without scouring the ends of their desktops to find it.
Following Our Dropbox Desktop App Tips Is The First Step Toward A More Efficiently Run Business
Since Dropbox streamlines storage and communications between your teams, it's a significant boon to your company. It's even more helpful to have a straightforward breakdown of how to add the app to your desktop for seamless access.
Thus, with the information in this article, the world is your company's oyster, and you're ready to take massive strides as an organization.