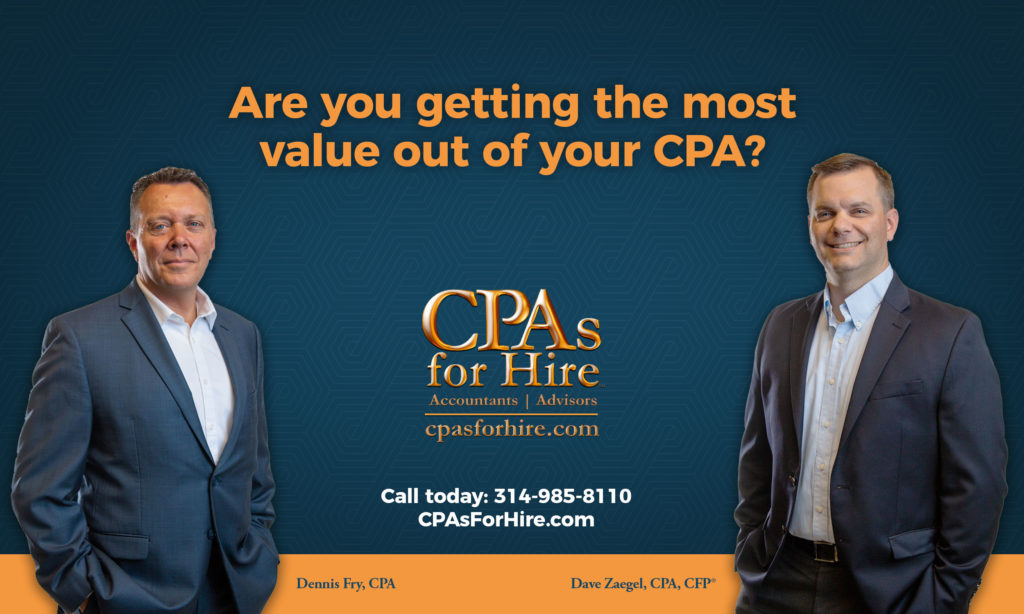 FOR IMMEDIATE RELEASE
CPAs for Hire Enters Ninth Year in Business
ST. LOUIS, January 2023 – CPAs For Hire announced its ninth year anniversary as a full-service accounting, tax and advisory firm this Spring.. 
Serving the Greater St. Louis area, CPAs for Hire offers a broad range of services in accounting, tax, and financial management for business owners, executives, and independent professionals.
Since its inception in 2014, CPAs for Hire has earned a reputation for its unique services which expand beyond basic accounting – namely their popular part-time CFO and business advisory services. 
"We have seen time and time again that our business owner clients need more than just the software to keep track of their business expenses," said Dennis Fry, founder and president of CPAs for Hire. "Our services are changing the game for business owners across the country, because they can leverage their investment much more than if they were doing it alone. Business owners deserve support in guidance in their finances, and we are doing just that."
Within the company, the CFOs for Hire team provides part-time and interim CFO services, which allow business owners to delegate their finance and accounting matters and focus on operations. The CWOs for Hire team provides fiduciary wealth planning for retirees, business owners, and executives.
Over the past nine years, CPAs for Hire has positioned itself as a leading accounting firm in the greater St. Louis area for small businesses and their owners. They eliminate stress by keeping accounting records up-to-date and owners informed, so they have the information needed to make informed decisions, obtain loans, acquire new investors, and more.
The company team consists of experienced, dedicated CPAs who are passionate about helping clients understand the numbers. The team now offers a subscription-based service model so that their clients know their costs for the year as well as have direct access to Quickbooks Online.
For more information about CPAs for Hire and the services they offer, please visit https://cpasforhire.com.