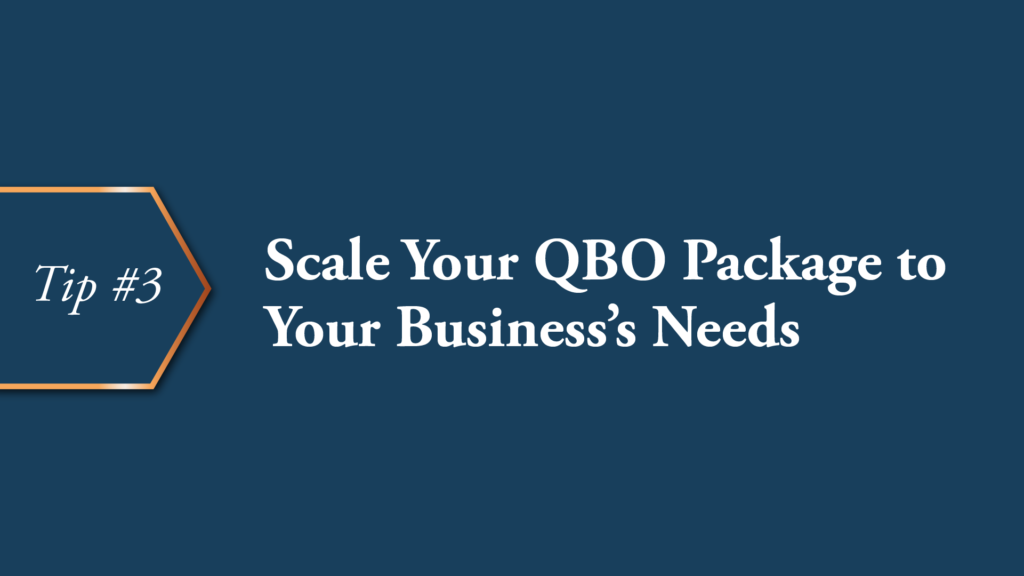 Tip #3: Scale Your QBO Package to Your Business's Needs
Small businesses don't just need an accounting solution; they need software that makes sense based on their needs. As we touched upon in the previous section, spending too much to obtain a given benefit or upgrade completely defeats the purpose of the "improvement."
Yet, there's a need to strike the correct balance with these investments.
Sure–you must be conscious of your budgetary limits. But you can't underspend on technology that can't meet your business's requirements. That'd be just as costly as overspending, based on the extra work you'd create for yourself and your team and the lost opportunities that come with inefficient software and tech.
QBO shines when scaling to a given small business's size. Those who've designed the software understand SMBs aren't one-size-fits-all, offering multiple packages (as mentioned earlier).
Many pretenders don't properly line up their packages with value. Conversely, QuickBooks does the opposite, growing with your business, continually under-selling itself, then over-delivering.
For instance, as you scale your business, QBO's Batch Invoicing will ensure you don't get swallowed up by the resulting data entry of mounting financial transactions. This handy feature allows you to create multiple invoices using one screen.
So successful and efficient is the Batch Invoicing feature that it's saved customers up to 37% of their time spent on invoices.
As the old saying goes, time is money. That extra time saved can now go to more profitable pursuits.
Far too often, companies try to grow without systems built for expansion and get swallowed up as a result. A tool such as Batch Invoicing ensures you keep up with the many moving parts of your continually evolving enterprise.
Sign-Up to our newsletter to keep up to date on the latest financial Advice